What's scarier than applying and qualifying for a mortgage, and then having to start the process ALL OVER?!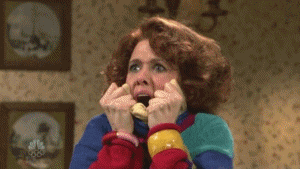 Starting from scratch all because of one mistake that could've easily been avoided…
Today we will list the most common (and avoidable) mortgage mistakes, how to steer clear of them, and why they mess up the mortgage loan process! 
Switching Up Jobs
This is one of the most common mortgage mistakes lenders have to deal with. Changing careers or even deciding to retire in the middle of it all, can really hurt your chances of closing on your mortgage. To put it simply, a lender can't make a case for a borrowers future income based on their current income if jobs are in transition. Underwriters look at employment and income, length of time you've been employed, stability and more! 
If you're expecting to change jobs during the application process, just let your lender know ahead of time so paperwork is easier for both of you. As long as you can show moving forward that your future income will be able to make those monthly mortgage payment, there's no need to worry about starting all over again. 
Credit Changes
Does it FREAK you out when something negative pops up on your credit report? Are you extra careful how you spend your credit cards and meet payment deadlines? Good! During the mortgage loan process, keeping major tabs on your debt to income ratio, credit score, and how on time you are paying your bills, is going to be crucial. Even after you've been approved and are in the mortgage loan process, don't forget how important it really is to stay on top of your credit score.
Here are a few other things that can lead to trouble with your impending mortgage…
-Getting a new credit card. Whether that's through your favorite department store, avoid the temptation to register for one. This results in a MAJOR headache later for you and your mortgage lender. 
-Getting an auto loan. This can potentially throw your debt to income ratio out of whack, change how much you qualify for, and totally cancel out the previous pre-qualification that's been done. 
For more credit tips to BOOST up your credit score, checkout some of these clips from financial and credit expert Jeff Boulton
Big Purchases
Just as a general rule, save any big purchases for AFTER the closing of your mortgage. Another way to doom your mortgage approval is to spike up your debt to income ratio.
Maybe you're super excited about your new home and want to put all the new home decor charges on a credit card. BAD IDEA.  Spending big bucks on new home decorations, a motorcycle, a spontaneous trip, or anything else on your credit cards is a definite NO while you're in the process of closing on a home. Life gets busy and random expenses will naturally pop up, so this is one of the most common mortgage mistakes that can get easily be forgotten. 
What are some other red flags for mortgage lenders to see from borrowers? Here's some more "DON'TS" to help you better prepare for the mortgage loan process..
-Getting involved in a timeshare. Really anything that requires you to "finance" – or that will be showing up on a credit report isn't worth the trouble down the road. 
-Paying off charges or collections without consulting with your loan officer first
-Changing bank accounts or making changes to your credit profile. 
Following these simple guidelines will keep this final chapter of the home buying process as hassle-free as possible! As a mortgage company, our favorite part of the job is delivering the great news that you've closed on your dream home. Keeping these tips in mind throughout the process will make your life much easier and speed that process up as well!
Call us to talk to one of our knowledgeable team members today 480-832-4343 or use our NEW Online Accelerator application to get a quick estimate of what you can qualify for! 
---
References:
https://www.mortgagelendersofamerica.com/preapproval-tips
https://www.moneytips.com/7-mistakes-to-avoid-after-mortgage-pre-approval
Summary
Article Name
Scary (Avoidable) Mistakes People Make in the Mortgage Loan Process!
Description
What's scarier than applying and qualifying for a mortgage, and then having to start the process ALL OVER?!
Author
Publisher Name
Publisher Logo